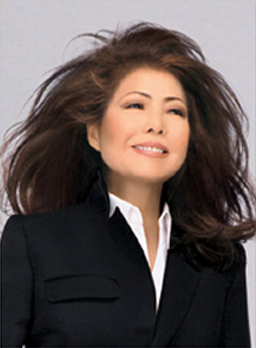 Susanna Beverly Hills Biography
In 1976, designer Susanna Chung Forest founded a small haute couture fashion house in Beverly Hills, California. As a child in South Korea, her dream was that one day she would become a famous fashion designer.
After immigrating to the United States as a young girl, she worked and put herself through school at the same time. At the age of 21 she was so broke that she was forced to live in her car for many months. However, her childhood dream remained steadfast, she knew that someday she would achieve all her goals and dreams and she did.
Today, Susanna Beverly Hills is internationally renowned for exquisitely tailored custom-made clothing. Susanna's line is characterized by a sense of elegance, grace and style, and her loyal clients include politicians, corporate executives, actresses, business owners, judges, and members of the Fortune 500.
From its beginning through the 1980s, Susanna Beverly Hills was well known in the movie and television industries for fine, custom-made costumes. Susanna was called upon regularly by Aaron Spelling and other producers to create wardrobes for shows and films such as "Loveboat," "Basic Instinct," "Dynasty," and "Hotel." She worked with Robert Turturice to create Cybill Shepherd's wardrobe on "Moonlighting," which won the 1987 Emmy for Outstanding Costume Design for a Series.
As the 1980's came to an end, however, budgets in the entertainment industry plummeted. After a careful evaluation of her options, Susanna chose to pursue a more productive direction for the company. She redirected her focus towards fostering a high profile and profitable haute couture business for top level corporate women. Susanna marketed her beautifully custom designed, made-to-measure and ready to wear clothing to businesswomen around the world, who spread the word about her powerful and classic designs. The company achieved instant fame, making it one of the most successful clothing stores per square foot in the world. Susanna's powerful designs can be found at her one and only exclusive location in Beverly Hills.
Susanna designs for hundreds of powerful women, from CEOs of major corporations to wives of Fortune 500 members. Most interestingly, Susanna Beverly Hills' customers often come to Susanna through recommendations from their husbands. Her clients include the Sultans, the royal family of Saudi Arabia; Senator Hillary Clinton; Barbra Streisand; the family of Suharto, the second president of Indonesia; Judge Judy Sheindlin; Carol Burnett; Barbra Sinatra; Dame Celia Farris; and Caroline Kimmel, wife of Sidney Kimmel, owner of Jones New York. Additionally, every year from 1990 to 2000, Susanna designed for the International Auto Show for Ford Motor Company.
Susanna is so much more than a designer. She is a pioneer, revolutionizing the way women of the world look and feel about themselves. Through her designs she instills confidence, creates success and inspires greatness.